CHAPTER FIVE: GUESS WHO
Mao cautiously flew in closer to get a better look at the campsite. To her discovery - but not her surprise - this looked like a wizards campsite. That made sense. No muggle would be camping out here, except maybe the most extreme muggle. She waited around for what seemed like a couple hours, but no one was around.
Mao:
The sun will be setting soon. I'd better get back. I will definitely try to sneak back out here tonight! This could be my chance at getting rescued!
Mao flew back to the frozen lake, and waited for the sun to set. Then out of the woods she saw a figure emerge. She couldn't believe her eyes! It was Prince Jeffrey!!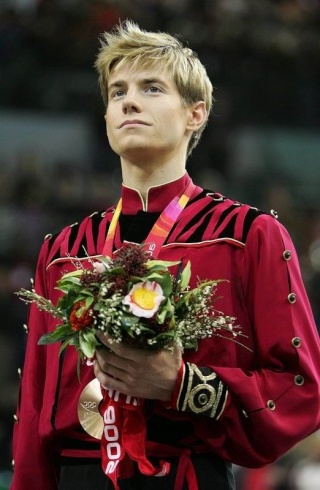 Mao:
Omg, it's Prince Jeffrey!!
I've always had a crush on him, and I know he's always liked me too. Maybe he could be the one to break the curse!........ Oh, but what about Taka

?....... Wake up girl. You better forget about Taka. Jeffrey could be your one and only chance to get out of here! Plus, he's looking mighty fine

! Forget about those lingering feelings you have for stupid, immature Taka. Let's concentration on brave, handsome
PRINCE
Jeffrey! Ok sun come on! Set!!
Jeffrey pulled out his wand and aimed it toward Mao.
Jeffrey:
Thank God. It's almost sunset. I was starting to worry I wasn't going to find any dinner.
Mao:
WHA?????!!!!!
Mao was out in the middle of the big open lake. She knew she had no where to run (or fly). He had her.
Mao:
Oh PLEASE sun! Set! Set! Set! Come on! Please God!!!
Mao sadly stared at Jeffrey, and prayed that he could see the emotion in her eyes, and maybe even sense her plead. Jeffrey began to chant a spell, but stopped before he finished it, and lowered his wand. His face became full of pity and guilt
Finally, without a moment to spare, the sun set, and Mao was able to transform.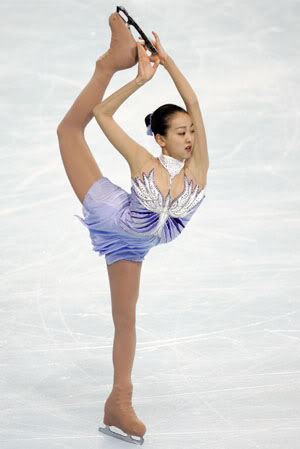 Jeffrey:
Mao?!?!?!?
Mao:
Come Jeffrey. It's not safe to talk here.
Mao and Jeffrey rushed off to Jeffrey's campsite, and she filled him in on her story by the campfire.
Jeffrey:
Plushenko! That no good bastard
! I knew he had something to do with all the skaters going missing. Mao, I have a confession to make: I've always liked you

. But our lives were just worlds apart. Trying to make anything work with you didn't seem like a possibility, so I never pursued you. But maybe.... maybe
I
am your one true love, and I can break the spell.
Mao:

Well Jeffrey, I've always liked you too. Maybe you
are
the one
.
Jeffrey:
Well how do we do this? How do I "proclaim my love for you to the world"?
Mao:
I'm not sure...

Jeffrey:
I've got it! Mao I never told you why I'm way out here in the middle of nowhere: Saturday night is my coronation ball. I was freaking out inside. I had to get away. Far away. Where no one would possibly find me. I had to think, and really be sure I was ready to commit to being king. I wasn't sure I could do it. But after finding you out here, I think you've helped me find a reassurance that I
am
ready. That I
am
right for the job.
Mao:
Aww. I'm flattered.

Jeffrey:
Anyway Mao, Come to the ball at my castle on Saturday. There will be hundreds of people there, media... I will proclaim my love for you there. That's gotta work, don't you think?!
Mao suddenly thought of Taka again.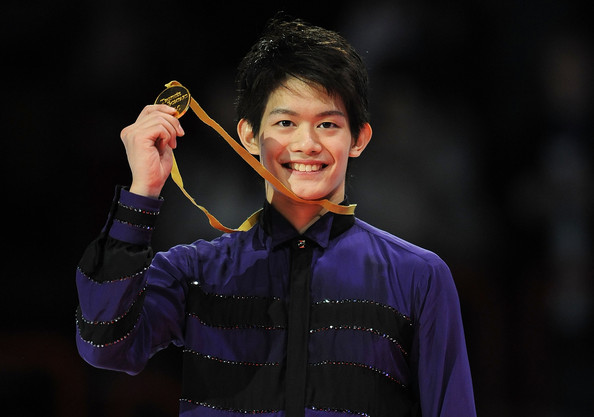 She could have it all with Jeffrey. So why was she thinking about Taka now??
Mao:
Oh... Oh, I don't know Jeffrey... What if you're not my one true love and it doesn't work? There's no telling what Plushenko might do.
Jeffrey:
Well we've at least got to try don't we? Forget about that asshole! I'm not worried about him. Come one Mao, this is your chance at freedom! Just think: no one to tell you no, or where to go?! A whole new world!
Mao:
A whole new world. Why do people keep telling me that?

Plushenko (off in the distance):
Mao?
Mao:
Oh no! It's Plushenko! I've got to go!
Jeffrey:
Well you'll come on Saturday right?!
Mao:
Well, how will I get there?!
Jeffrey:
I'll leave you a port key right here at my camp site (*a port key is an ordinary object which magically transports someone from one location to another. It can only be used once)
Plushenko:
Mao?! Where are you?!
Jeffrey:
Say you'll come, please?
Mao:
Ok I'll come. But for now, I've got to go!
Jeffrey:
Yes!
To Mao's surprise, Jeffrey gave her a goodbye kiss!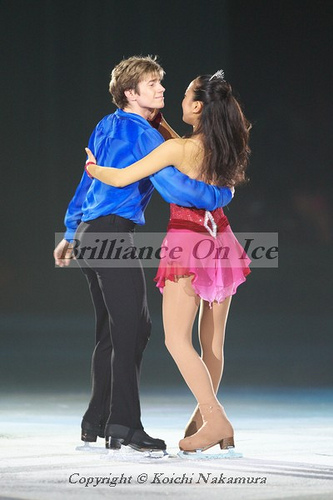 Mao:
Jeffrey! Oh!.... uh...

Jeffrey:
Goodbye Mao. Until Saturday

Mao:
Uh... Goodbye
Plushenko:
MAO!!
Mao snapped out of it, and ran back to the lake. While on her way back she thought to herself, "Taka who? Hehe. Maybe Prince Jeffrey
is
my one true love!..."
Plushenko:
There you are. Where were you?!
Mao:
Um, it's personal. Embarrassing even...
Plushenko:
Try me.
Mao:
Well. if you must know, I was using the little girls room.
Plushenko:
Oh? I heard a mans voice.
Mao:
Oh - well that was just Johnny.
Plushenko:
It didn't sound like Johnny. It sounded more... masculine.
Mao shot Johnny an urgent pleading look.
Johnny (in his best attempt to sound more "masculine":
Oh it was me Plushenko. I have a bit of a cold right now.
Plushenko:
The two of you are horrible lairs. See Mao, I heard the whole conversation. Gather round everyone!
Mao's stomach sank

. The other skaters all made their way over to the conversation.
Plushenko:
Everyone, the competition is off! You can thank Mao. She is planning on running off into the sunset with Prince Jeffrey, and having him break the curse. Then what? He tells everyone else where I am, and they come bust my whole operation? You think I can have that? Fear not though Mao. You will still be going to the ball....
In a sense
. You all know Yuna, yes?
Just then Yuna approached them from out of the woods.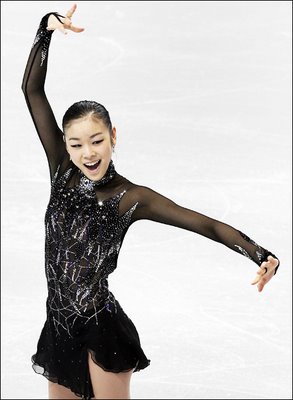 Everyone gasped. Not just because they were not expecting to see Yuna, but also because something about her didn't look quite right.
Plushenko:
A while back, I heard word that Yuna had come down with black swan fever. Yuna is one of the, if not THE most powerful female skater in the world. A skater like that with the fever could be a useful weapon, I thought to myself. I had to have her, so I kidnapped her. Alas, she may have turned out to be more hassle than she's worth. You've all heard the screaming. She's a terrible psychotic pain in the ass. However, I've decided to not treat her with white swan potion. I already have all of you talented skaters under my control... but you do not have that dark, untapped power that only the fever can give you. Yuna does. She is super powerful, willing to play dirty, happy to do my evil bidding...
Mao's heart sank. She knew what Plushenko was going to do. She couldn't believe she ever let herself foolishly develop any warm feelings toward that monster. Those feelings were all stripped away now.
Plushenko:
Yuna will go to the ball as you Mao. Prince Jeffrey will confess his love to her, thinking it is actually you. Here's a little technicality of the spell I never told any of you: If your one true love proclaims his love to someone else, you will die.
Mao:
No!!!! Plushenko please!
All:
Gaps
That Saturday, Plushenko locked Mao in the dungeon, while him and Yuna went off to the ball. Luckily, the other girls (and boy) were able to break her out in time for her to get to the ball too.
Mirai:
We went into the woods, took the port key, and hid it before Plushenko could find it. You can still make it there in time to warn Jeffrey!
Mao was very very grateful that her friends had helped her so much. However, she didn't feel confident in how things would go once she got to the ball. She was not able to transform into a human that night, for she had been locked up at sundown, and not touching the lake. She wouldn't be able to communicate with Jeffrey or anyone else. She wouldn't even know what to do once she got there. She had to try though. Her friends led her to the port key (an old coffee mug),
and next thing she knew, she was at the beautiful palace.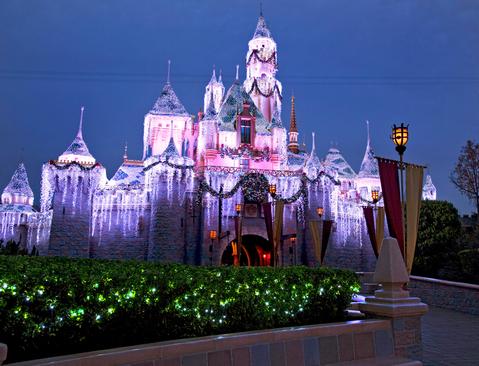 To be continued.........................
-------------------------------------------------------------------------------------------------------------------------------------------
Sorry it took me so long to come out with a new chapter! Gosh I didn't plan on this whole thing being multiple chapters long at first, but I am horribly long winded when it comes to writing (strangely, in person when I'm talking, I'm actually the opposite. I'm pretty quiet then. lol). Oh well, this has been fun. If you've ever seen the swan princess, you can probably see how I've taken a lot of what happened in the chapter from that.
I will try not to make it so long before the next chapter.