I personally thought it would be much easier to just have a separate thread here to serve as a sticky note rather than have forum members sift through pages and pages of competition threads.

I'll be covering KeyHole TV and TVAnts, since those two are usually the streaming apps new members have the most trouble with.

Mods, feel free to move this if this isn't the right place!


KeyHole TV

KeyHole TV is by far the most stable option when it comes to watching live streams of Japanese TV. The video+audio is by no means superb, but it's satisfactory and is up all day which is always a plus. As with most feeds, KeyHole streaming tends to get unstable when numerous users are viewing the same channel, and this unfortunately tends to happen a lot especially during prime time. Still, having *some* stream is better than no stream at all.
KeyHole is the
only
option available for viewing JO and Japanese Nats to anyone living outside Japan, unless we're fortunate enough to have someone provide a stream elsewhere on Justin.tv and the like.
KeyHole TV Website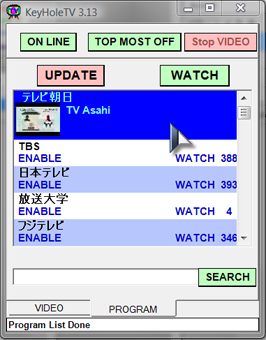 There's several tv+radio stations available, but the ones worth noting are as follows:
テレビ朝日 = TV Asahi
TBS (Tokyo Broadcasting Station)
日本テレビ = NTV/Nippon TV
フジテレビ = Fuji TV
テレビ東京 = TV Tokyo
総合テレビ = NHK General*
*NHK General requires a password (password is NHK in caps)*

TVAnts

TVAnts tends to not be as useful when it comes to skating-streams, but it does cover a wide range of Asian stations incl. CCTV and SBS. Unlike KeyHole, however, they aren't always available for streaming (this is especially true for the Japanese stations), so TVAnts will probably be more of back-up option most of the time.
TVAnts streams, for the most part, aren't recommended for those with slow internet connections since you'll be experiencing constant buffering and lag.
TVAnts @ Softonic
CCAnts Site (Chinese)
For some reason TVAnts switched its main channel server around May this year, resulting in several former users being unable to search for stations *but* TVAnts still works.
You just have to add
list.ccants.com
to the list of servers. There's other servers out there as well (Google is your friend!), but list.ccants.com is usually more than enough.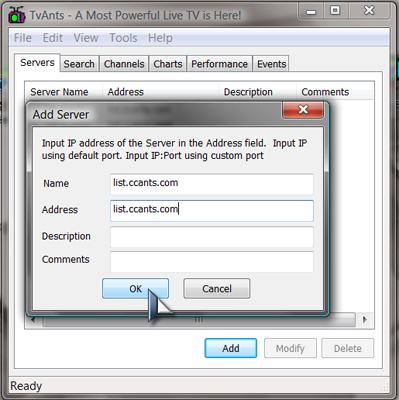 Once that's done, you should be able to search for channels (TVAnts will automatically do this for you). Here's a screenie:
Personally speaking, I wouldn't bother with channels that are lower than 70% in "quality."
---------------------------------------------------
That's all for now. Hope this helps!

P.S. If anyone else would like to add guides or tips for other similar apps like SopCast, feel free to post it here~